Tuesday, October 13th, 2015
In preparation for our October 15th author visit from A.S. King – yes friends, that is in TWO DAYS! – I thought it would be a good time to reminisce about some of my favorite A.S. King books. She is one of my favorite go-to authors when I am in need of a book that will shake my reading list up a bit.
If you have not read King, I suggest going with one of two books: Glory O'Brien's History of the Future or Ask the Passengers. Both of these books ease you into Kings writing style; greeting you with depth of character and an unusual story that does an impeccable job presenting real life teen issues in a unique and powerful way. These change-of-pace books are sure to add great variety to any readers list.
Glory O'Brien's History of the Future
 Graduating from high school is a time of limitless possibilities–but not for Glory, who has no plan for what's next. Her mother committed suicide when Glory was only four years old, and she's never stopped wondering if she will eventually go the same way…until a transformative night when she begins to experience an astonishing new power to see a person's infinite past and future. From ancient ancestors to many generations forward, Glory is bombarded with visions–and what she sees ahead of her is terrifying.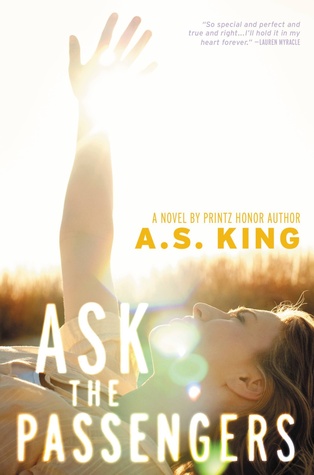 Ask the Passengers
Astrid Jones desperately wants to confide in someone, but her mother's pushiness and her father's lack of interest tell her they're the last people she can trust. Instead, Astrid spends hours lying on the backyard picnic table watching airplanes fly overhead. They're the only people who won't judge her when she asks them her most personal questions . . . like what it means that she's falling in love with a girl. As her secret relationship becomes more intense and her friends demand answers, Astrid has nowhere left to turn. But little does Astrid know just how much even the tiniest connection will affect the lives of strangers–and her own–for the better.
 If you are ready to jump right into a King book then I suggest Reality Boy:
Reality Boy
A.S. King explores the desperate reality of a former child "star" struggling to break free of his anger. Gerald Faust started feeling angry even before his mother invited a reality TV crew into his five-year-old life. Twelve years later, he's still haunted by his rage-filled youth–which the entire world got to watch from every imaginable angle–and his anger issues have resulted in violent outbursts, zero friends, and clueless adults dumping him in the special education at school. No one cares that Gerald has tried to learn to control himself; they're all just waiting for him to snap. And he's starting to feel dangerously close to doing just that…until he chooses to create possibilities for himself that he never knew he deserved.
Great news! If you are an avid King reader you're in luck! Her new novel I Crawl Through It was released late September of this year to great review thus far!
Four teenagers are on the verge of exploding. The anxieties they face at every turn have nearly pushed them to the point of surrender: senseless high-stakes testing, the lingering damage of past trauma, the buried grief and guilt of tragic loss. They are desperate to cope, but no one is listening. So they will lie. They will split in two. They will turn inside out. They will even build an invisible helicopter to fly themselves far away…but nothing releases the pressure. Because, as they discover, the only way to truly escape their world is to fly right into it.
Posted by: Emily
---