If you are a 

Twitter user and follow more than a few Twitterers, you've probably found that it can be a daunting task to keep up with all those Tweets! One simple tool to keep you organized is TweetDeck. 
Just download TweetDeck to your computer and sign on with your Twitter account. Set up as many columns as you like (such as News, Friends, Family, Celebrities, etc.), and then begin to organize the Twitters that you follow.  Choose the Twitters you'd like to put in each column. You can put a Twitterer in multiple columns if you wish.  Now you can see at a glance all of your family tweets in one column, all of the news tweets in another, and all of your co-workers in the next. It makes it so easy to prioritize which ones to read first, and which can be left for when you have more time!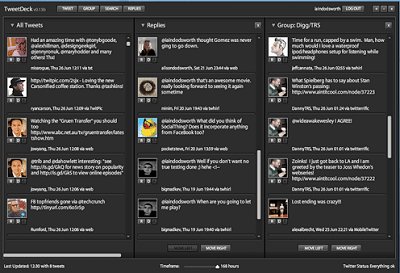 Other ways to organize Twitter include PeopleBrowsr, Seesmic, Nambu, and Eventbox.
Posted by: Jan