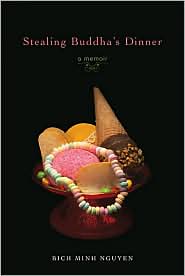 The Michigan Humanities Council and Grand Valley State University invite you to welcome Bich Minh Nguyen to Grand Rapids on Tuesday, October 13, at the Loosemore Auditorium in the DeVos Center on GVSU's Pew Grand Rapids Campus. 
Bich is the author of Stealing Buddha's Dinner, selected by the Council for the 2009-10 Great Michigan Read. Beginning at 7:00 pm, Bich will present a 45-minute talk about her experiences growing up in Grand Rapids in the 1970s and 1980s as a Vietnamese-American, particularly in relation to three themes identified in the book: immigration stories, cultural understanding and contemporary history.
The presentation is free and open to the public. Bich will be available to sign copies of her book immediately after her talk. For more information on The Great Michigan Read in mid-Michigan and across the state, including a welcome video from the author, visit the Michigan Humanities Council.
Posted by: Shannon