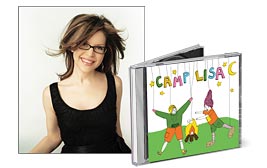 Camp Lisa is the second CD of children's music created by Lisa Loeb. Camp Lisa celebrates the tradition of summer camp with a mix of old favorites and original songs. Camp Lisa features collaborations with Steve Martin, Nina Gordon, and Jill Sobule.
I had the chance to see Lisa perform songs from Camp Lisa this past June. My favorite songs include: "Peanut Butter & Jelly," "Best Friend," and "Going Away."
This CD is available to check out from your library.
A portion of the proceeds of this CD goes to support the Camp Lisa Foundation which sends kids to camp.
Kids Music by Lisa Loeb:
Camp Lisa by Lisa Loeb
Catch the Moon by Lisa Loeb & Elizabeth Mitchell
Posted by: Michelle