Recently turn up an old floppy while cleaning your computer area?  Chances are your new computer won't have the ability to read the disk to see if it contains those long lost reports for a client…or maybe the only electronic copy of your resume…or perhaps the "Great American Novel" you started 10 years ago and want to try and get published today.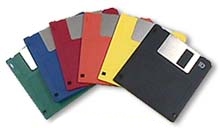 A well kept secret in Kent County is that KDL still supports floppy drives (or 3 1/2 standard).  Bring in your floppy, check what's on it, and drag those files onto a new flash drive.  You can bring in your own flash drive or purchase a 512 mb one with a cool KDL logo from your local KDL branch library for $10.00.
After you transfer all your files, what do you do with the old floppy?  Well, visit this site for some crafty ideas for recycling it.
Or (thanks to Rachel)…If you really want to recycle your floppy disks (or other technotrash), check out Green Disk! http://www.greendisk.com/
Also, looking for a way to convert your old or incompatible file formats (like MS Works) to run on other software programs.  Use the site www.zamzar.com for a free file converter.  Zamzar works on image and video formats too!
Posted by Kelaine
Posted by: Kelaine